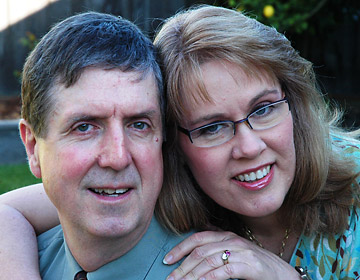 The Goldsmith is available by appointment only Tuesdays through Fridays 11:00 to 5:00. Our focus is custom design, and we no longer accept repair jewelry repair jobs. We just design and make new jewelry.
Tom Wilson is a Bay Area native. While in his early teens he found his strength in the form of artistic talent. "I enjoyed the admiration of teachers and classmates. By My mid-teens I began receiving offers from people wanting to purchase my creations. This was rewarding, and it helped set the course of my life." Tom's career as a goldsmith started in 1976 when he was hired to work at Design Jewelers in Los Gatos, California.
Tom opened his first store; The Goldsmith in Redwood City in 1980. In 1982 he met and began to date Vickie Nelson of Danville CA. Vickie began working at the store soon there after. They were maried in 1984. Tom and Vickie moved the store to Palo Alto in 1988 to it's current location.
Vickie graduated from UC Berkley in 1980 with an (AB Biological Sciences). In 1986 Vickie earned the title Graduate Gemologist from the Gemological Institute of America (GIA). Vickie also holds the title of Certified Gemologist with the American Gem Society (AGS).